In Charlie and the Chocolate Factory and its many film adaptations, the "golden ticket" Charlie discovers inside a Wonka bar isn't just about getting a day trip to a rather chaotic confectionery. For him, it's a path out of his lower-class life, the opportunity to be part of something grander and more spectacular than he could ever have imagined.
Real life doesn't really work that way. But Diana Adamo has always considered her education to be the closest she'd ever get to a golden ticket. It was a chance to overcome the challenges of her childhood — growing up in poverty, witnessing domestic abuse — and not only break out of that cycle of but find a way to help stop it for others.
"Feeling that pain and that hurt for me and my siblings and my mother who all had to endure that hardship… it's my past that propels me," she says. "If I can prevent others from facing the same difficulties that we did, then it all be worthwhile."
Through hard work and perseverance, Diana has succeeded in carving a different path forward for forward for herself, one that took her from her home in the greater Toronto area to Canada's East Coast and to earning an exceptional academic record at Dalhousie.
Along the way, she's been lucky enough to experience a couple of those "golden ticket" moments. One was when she was offered a Chancellor's Entrance Scholarship to Dalhousie — without which she probably would never have been able to study at Dal in the first place.
The second was this past Saturday night, when she got the phone call telling her she's going to become a Rhodes Scholar.
"I had always imagined this happening to fictional characters," says Diana. "I had to take a moment and just contemplate it all, realizing how much my life was going to change in the next two years, and how excited I was for that."
An incredible honour for outstanding achievement
A Rhodes Scholarship is one of the most prestigious academic awards in the world. Eleven recipients are chosen from across Canada each year, joining a global contingent of more than 100 scholars annually who receive full funding to cover travel, study, and expenses for postgraduate studies at Oxford University in the United Kingdom. Recipients are chosen based on academic achievement, moral character, leadership, and extracurricular activities.  
With her scholarship, Diana becomes the 94th Rhodes Scholar to be selected from Dalhousie University since the awards were first created in 1902 — a number that exceeds all but a handful of other major North American universities and places Dal in the ranks of schools like Stanford, Princeton, McGill and the University of Toronto.
Read more: Get to know past Rhodes Scholars like Ashley Jackson, Sierra Sparks and Nayani Jensen
"We are extremely lucky at Dalhousie to get to celebrate so many kinds of achievement from across our university community," says President Kim Brooks. "Diana's path is emblematic of the spirit of service, good character and leadership that defines our student community. We are enormously proud of all she has accomplished." 
"Diana is an incredibly deserving Rhodes Scholar," says Chuck Macdonald, dean of the Faculty of Science. "She has demonstrated academic excellence, a commitment to leadership in the community, and an ability to overcome adversity. We are very proud of her achievements during her time at Dal."
A research-focused educational experience
It was Dalhousie's particular approach to science education that attracted Diana to the university in the first place.
"I wanted to get a taste of the research experience early on in my academic career," she says. "I realized the Dalhousie Integrated Science Program was one of the few programs that offered first-year students the opportunity to engage in research to see if it was for them. I knew from the get-go that sounded amazing to me."
The multidisciplinary nature of the Medical Sciences major was also a draw. Its approach was a good fit given the topics she was interested in — such the kinds of neurodevelopmental disorders that had been part of her family life — are best understood through a mix of approaches and disciplines. Still, if it wasn't for that Chancellor's Scholarship, none of it would have been possible.
"I am certain that had I not received that award, I wouldn't be here today and I certainly wouldn't have a Rhodes Scholarship. I wouldn't have been able to excel in academics the same way. It just further cements my understanding of how important education is, in that my education not only gave me opportunities for growth and my career, but it opened my mind to what the world has to offer: different perspectives, different people. And that is becoming ever-so-crucial in our world."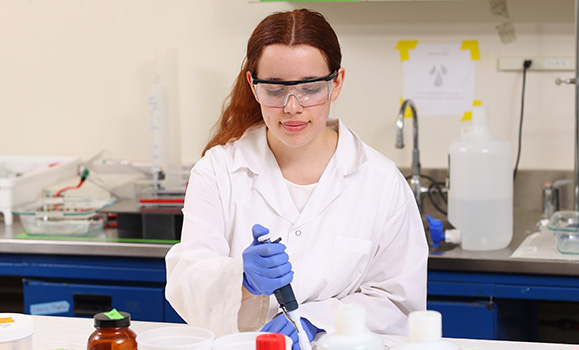 Shelley Adamo (no relation) is a faculty member in the Department of Psychology and Neuroscience who has gotten to work with Diana in her invertebrate behavioural physiology lab, first as volunteer and then a research assistant.
"In the lab Diana has proven to be an exceptional young scientist," says Dr. Adamo. "Not only did she learn material quickly, but she was able to generate novel ideas that could be rigorously tested.
"She has both a creative intellect and a rigorous mind.  The two together are a powerful combination; I predict she will have an impact on our world."
The experiences Diana has had in the Adamo lab — studying tick behaviour and neuroinflammation in a particularly unique caterpillar species — have made her even more confident that academic research is going to be part of her future.
"I've realized that change, in anything, requires a solid knowledge base. You need all the information present to make the best choices, and if we're going to find new programs, new therapies, new approaches — research is essential to that."
Closing the gap, making the difference
Outside of the classroom, Diana's interests have tended to focus on areas where community action can help close community gaps. In high school, she established a financial literacy club to help her and her peers learn about finance and budgeting in ways that were relevant to teenagers. At Dalhousie, she gravitated towards Dal's Medical Campus Response Team, a student-run volunteer organization which aims to increase access to first-aid support within the university community. She served as its vice-president of human resources and served as a medical responder at campus events.
She's also volunteered at the IWK's Autism Research Centre — work that hits close to home given her family's experiences and struggles with neurodevelopmental disorders. It's the intersection between those disorders and the socioeconomic determinants of health that she hopes to study further in a master's program at Oxford. From there, she sees herself continuing her studies into either a MD or perhaps a PhD.
It's all about finding the best way to make a difference — the same drive that has pushed her to excel at Dalhousie, to achieve all that she has in her studies, and to cash her ticket to Oxford.
"I know that I want to make such an impact on the world. I want to be able to help create systemic changes that are bigger than me, that can affect others in my community. And in order to do that, I need to learn, and my degrees are part of helping open doors to being able to have the power and influence to making those changes.
"I knew I had to work hard if I wanted to reach this life goal of mine, and it was going to take me putting in everything I had. It was that goal that propelled me during those late nights when I might've just wanted to go to bed, or just turn on some Netflix and skip studying. But I'm doing this for a reason and that's what's kept me going."