AsiaOne has launched EarthOne, a new section dedicated to environmental issues — because we love the planet and we believe science. Find articles like this there.
---
SINGAPORE – People will soon be paying more for plastic, with most supermarkets set to charge at least five cents per bag by July 3.
The move, part of efforts to reduce the use of disposables in Singapore, comes in tandem with efforts to ramp up recycling efforts in homes.
About 400 major supermarkets – or two-thirds of all outlets here – will charge for disposable shopping bags. They include NTUC FairPrice, Cold Storage, Giant, Sheng Siong and Prime supermarket stores.
Disposable carrier bags of other material types will also carry a charge.
While the price on disposable bags was first announced in 2022, the July 3 start date was announced by Senior Minister of State for Sustainability and the Environment Amy Khor in Parliament on Thursday.
Speaking during the debate on the Ministry of Sustainability and the Environment's (MSE) budget, Dr Khor said: "Following consultations with supermarket operators, we understand that the majority will be charging five cents per bag, and this would moderate potential cost impact on consumers. We can avoid the charge by bringing our own reusable bags."
In a joint statement, the National Environment Agency (NEA) and MSE said: "Whether they are made of paper, plastic or degradable materials, disposables have an impact on our environment during their production, transportation and disposal."
Since all disposable bags in Singapore are either recycled or incinerated before being thrown into the landfill, biodegradable bags – which have already turned to ash – cannot naturally degrade here. Biodegradable bags are also not necessarily recyclable.
Supermarket chains can proceed with the bag charge before July 3, if they wish to.
A number of smaller retailers and some supermarkets have already been voluntarily charging for plastic and paper shopping bags. These include The Body Shop, H&M, Guardian, Watsons, 7-Eleven, 11 FairPrice outlets and 178 Cheers and FairPrice Xpress stores.
Similar schemes in Hong Kong, Taiwan and the United Kingdom have led to a drop in plastic bags used by 60 per cent to 90 per cent, said Dr Khor.
The authorities will monitor the effectiveness of the bag charge at supermarkets from July and assess the need to expand mandatory coverage to other stores in the future, she added.
To spread the word about the upcoming carrier bag charge at supermarkets and encourage shoppers to switch to reusable bags, environmental group Zero Waste SG has been running weekend roadshows at different supermarkets since Feb 11. Shoppers who have spare reusable shopping bags at home can drop them off at their "Bring Your Own Bag" booth so that families who need them can pick them up.
The two-month roadshow will next be at Serangoon North Avenue 5's Sheng Siong outlet from March 4 to 6.
Supermarket operators will be required to publish information on the number of bags given, the amount of proceeds received and how they are used. Dr Khor added that all supermarket operators have said they intend to use the proceeds for environmental and social causes.
Households are also reminded to continue bagging their trash responsibly. Instead of using plastic bags, small rubbish can be bagged in empty bread bags, and larger waste can be placed in packaging that holds tissue boxes, or rice and pet food bags, said Mr Andrew Yeo, associate director of outreach at Zero Waste SG.
Dr Khor also announced that every home can collect a recycling box from vending machines later this month, to make it more convenient for families to recycle and also do it properly.
The foldable box – called Bloobox – can hold up to 5kg of paper, plastic, metal or glass recyclables, or electronic waste. Each container comes with a removable divider to separate small e-waste items such as batteries and light bulbs from other recyclables.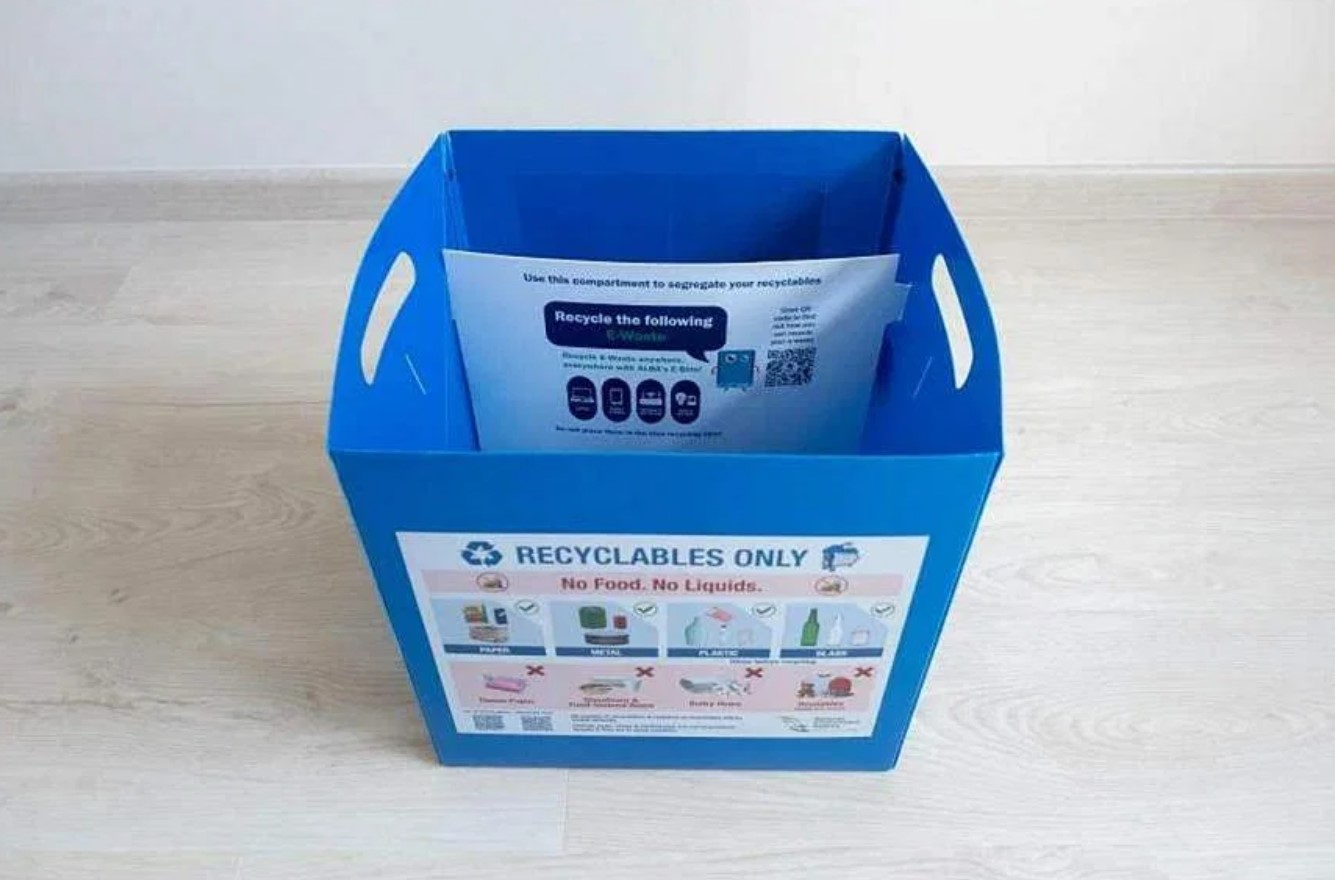 In a pilot distribution in November and December 2022, the home recycling boxes were made available to residents in five constituencies – Fengshan, Sembawang West, Tampines North, Yio Chu Kang and Yuhua.
More than 8,600 households – equivalent to almost the total number of homes in Outram – collected the recycling boxes during the pilot.
"This (pilot) phase was intended to help NEA assess and refine the distribution plan and help ensure a smooth collection experience during the nationwide phase," said NEA.
The recyclables collected in a Bloobox can be dropped off at a blue recycling bin or recycling chute, which is more common in newer HDB blocks. E-waste, however, should be dropped off at designated e-waste bins islandwide.
The aim of the home recycling box is also to help raise the domestic recycling rate in Singapore, and prevent the blue recycling bins from being contaminated.
Singapore's domestic recycling rate was 13 per cent in 2021, a 10-year low. About 40 per cent of the contents found in the blue recycling bins cannot be recycled due to contamination from food and liquid waste, tissue paper and other items.
And to spur the recycling of plastic bottles and cans, a refundable deposit will soon be placed on packaged drinks. Consumers can get the refund – likely 10 to 20 cents – once they return the empty drink containers.
Bottles and cans between 150ml and three litres will be part of the upcoming beverage container return scheme, said Dr Khor. The scheme is expected to kick in by mid-2024.
[[nid:570511]]
"NEA will set an 80 per cent return rate target… With this, we expect about 800 million plastic bottles and metal cans to be returned for recycling annually," she added.
In Parliament on Thursday, Minister for Sustainability and the Environment Grace Fu announced that an initiative giving one- to three-room Housing Board flats vouchers to buy energy-saving appliances will be expanded to more households beyond 2023.
In the ongoing initiative that was supposed to last till end-2023, every one- to three-room household can redeem three e-vouchers worth $225 to buy energy-saving refrigerators, LED lights and water-saving shower fittings.
Currently, about 300,000 households are eligible to receive around 900,000 e-vouchers under the Climate Friendly Households programme. As at January, about 33,000 vouchers have been claimed, said NEA.
More details about the programme's expansion and list of appliances will be provided later in the year, and the change will kick in in the next financial year, said Ms Fu in Mandarin.
This article was first published in The Straits Times. Permission required for reproduction.