Newcastle United co-owner Amanda Staveley says she's confident the club's majority shareholders PIF won't have their heads turned by the for sale signs at Manchester United and Liverpool.
Speaking at the Finacial Times Football Summit, Staveley said her consortium chose Newcastle due to the fact the price was less than 10 times what Man Utd and Liverpool are for sale at.
Fresh from Newcastle's Carabao Cup Final defeat to Man Utd, Staveley, who has a 10 per cent stake at St James' Park, said: "When we looked at Newcastle, we were very clear we wanted a club with a passionate fanbase. We got that. We also wanted a club we could buy affordably because we (Staveley and husband Mehrdad Ghoudoussi) are also partners with PIF.
"We are not that wealthy. We're the poor partner and that helps govern a lot of decisions.
"We didn't go for the wonderful Tottenham and Chelsea and Liverpool. I'm a massive Liverpool fan and we tried to buy them but we walked into a Newcastle game and said 'why spend X billion when you can spend £350m (on Newcastle)?'"
But when asked if PIF would switch their interest to one of the global powerhouses due to their availability, she added: "No, I don't think so. I can't speak for PIF but I really can't see that happening. We've built in the last year from 11th to hoping we have a chance of the Champions League."
Staveley gushed in the wake of the Wembley defeat to Man Utd that Newcastle will win the Premier League and the Champions League in future years.
They have spent £250m on players in three transfer windows since taking over in October 2021, with only Man Utd and Chelsea having spent more.
However Newcastle are already battling FFP, and require new sponsorship deals and increased revenue to give the recruitment team more spending power in future transfer windows.
"We have put in £200m to date of new money," Staveley added. "And we have a business plan based on a five, 10, 15-year timeline.
"With FFP rules as tight as they are, we really need to do everything we can to grow our revenue and grow our finances."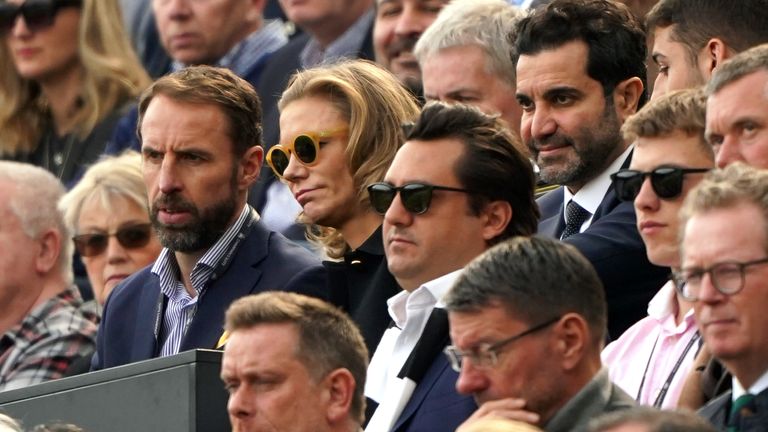 One of them, she confirmed, is the filming of an Amazon documentary – revealed by Sky Sports last month. Cameras have been following the team for two months.
Staveley also confirmed the club are looking into the potential of multi-club ownership, akin to the City Group structure at Man City.
Today's comments from Staveley come as Amnesty International urged the Premier League to re-examine the "legally binding assurances" that Newcastle are not controlled by the Saudi state, following the filing of a court document in the United States.
A court case involving the PGA golf tour and the Saudi-backed LIV golf described PIF as "the sovereign instrumentality of the Kingdom of Saudi Arabia" and Head Yasir Al Rumayyan, who is also the chairman of Newcastle United, as "a sitting minister of the Saudi government".
The Premier League and Newcastle have declined to comment.
Highlights of the Carabao Cup final between Manchester United and Newcastle at Wembley.

'Newcastle close to FFP limits; They need new revenue'
Sky Sports News reporter Keith Downie:
"The message from Newcastle for a while now is that they're close to their limits of FFP – until they can bring in new revenue to give them more spending power.
"The commercial department have been working hard on that for months, but it's worth remembering that the workforce in that department is still in its very early days of development and growth.
"If Newcastle are to qualify for Europe next season, they will need at least another five or six new signings to compete, so it's imperative that new sponsorship deals and revenue streams are announced in the coming months to push back the boundaries of FFP."