Our young person of the month is Robert Kunzmann. Robert is one of the co-founders of AC Biode and the Chief Operating Officer of CircuLite, a product of the AC Biode company. He is an experienced engineer and entrepreneur. After his BEng in Manufacturing Engineering and Management, he worked in the construction industry, where he encountered the large amounts of waste that go to landfill. Read his amazing story below and be inspired
ROBERT KUNZMANN
Robert is COO and one of the co-founders of AC Biode. He is an entrepreneur and engineer who is passionate about making cutting-edge environmental innovation universally accessible. Robert specializes in commercializing engineering solutions to protect the ecosystem and enhance quality of life. He is an experienced engineer and entrepreneur. Before AC Biode, he founded and exited a gaming start-up. As a member of the Arctic Club, he loves outdoor expeditions and frequently visits remote areas.
On How He Began
Passionate about the environment, Robert completed a MPhil in Engineering for Sustainable Development at Cambridge. He then served 4 years as a researcher at the Centre for Sustainable Road Freight at the University of Cambridge. After his BEng in Manufacturing Engineering and Management he worked in the construction industry, where he encountered the large amounts of waste that go to landfill.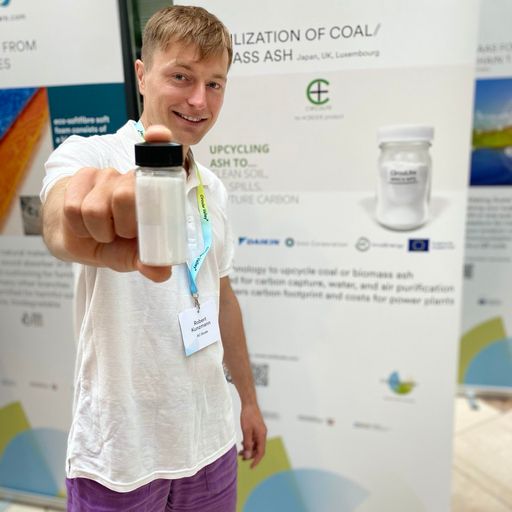 On His Successes
Ash is the largest solid landfill in the world. Annually, 400.000.000t are sent to landfills. This is a major CO2 emitter, waste of land, and leads to groundwater contamination. CircuLite is a profitable alternative to current unsustainable practices. Robert's vision is to end ash to landfill.
The old business model is expensive, unsustainable and obsolete Robert says. AC Biode is bringing a paradigm shift to the incineration waste industry.
It is now possible to upcycle waste ash locally and use it to capture CO2 from power plants and AC Biode is the first to offer this solution. They make it easy for power plants to create a local circular economy around their waste. This significantly lowers their carbon footprint, waste to landfill and operating cost. AC Biode offers a packaged solution that allows those ash producing companies to become highly sustainable in only 2 years. The Return of Investment in these industries is usually 10+ years. For AC Biode´s CircuLite plants this is a maximum of 5 years, which is unheard of.
On His Challenges and Future Plans
The truth is that there is a lot of resistance to change in the slow-moving energy industry, Robert says. However, now companies are waking up to increasing carbon taxes, landfill, and fuel costs. CEOs of power companies all over the world are pulling their heads out of the sand, and looking for solutions. He believes that AC Biode is that solution. They have successfully completed two such projects in Japan and Taiwan. Firstly, a plant that produces 5,000 ton/year of CircuLite from coal ash and secondly, a plant 3,000ton/year of CircuLite from biomass ash.
Unlike other inventions, the role that CircuLite will play in the future is not set in stone. Due to its wide range of possible input materials (ash, sludge, mining waste and more) and use cases (filtration, water purification, self-cooling concrete, agriculture, cosmetics, carbon capture etc.) it is an innovation enabler. Robert believes that AC Biode can build new environmental solutions, such as circular carbon capture, on top of CircuLite. It really is a platform for inventions.
His Words of Advice For The Youths
The power of youth is the common wealth for the entire world. The faces of young people are the faces of our past, our present and our future. No segment in the society can match with the power, idealism, enthusiasm and courage of the young people.
You can check out Robert's company AC Biode on their Website, Facebook, Twitter and LinkedIn.
Who will be the next Young Person of the Month?
You can be the next Opportunity Desk Young Person of the Month! All you have to do is get a friend to recommend your work or fill out the nomination form here. We want to use the platform to recognize and celebrate the efforts of amazing young people around the world. Oh! And you must be an active Opportunity Desk member, either as a fan, reader, or subscriber! Share!