Betting has spiked on the exact score in Super Bowl LVII after a graphic that showed the Philadelphia Eagles would prevail over the Kansas City Chiefs by 37-34 went viral.
Conspiracy theorists have been encouraged by comments made by former NFL players, joking that games are "scripted" and the outcome is already decided by the league, with plays known by both teams and the winners being the ones who would make the biggest story for the media.
While this has been flagged as a joke, a tweet by FearKyrie, which read "Nah someone just leaked the Super Bowl script," alongside a fake screenshot of Pro Football Reference, showed that the Eagles would mount a fourth-quarter comeback to overcome the Chiefs.
After it was viewed more than 12 million times, the image was taken down, but not before that it had an effect on betting markets, with the 37-34 exact score receiving a flurry of bets as punters don't want to take the chance on the outcome not being what has been predicted.
DraftKings spokesman Stephen Miraglia has said that 37-34 Eagles is currently the most popular correct score bet so far.
He said that 21% of the total bets of the correct score market and 26% of the money have been placed on this score actually happening, despite the quarter breakdown in the screenshot suggesting there will be a missed PAT (point after touchdown) and a safety, which are both reasonably rare in a game.
BetMGM has indicated that there are five times the number of bets on that correct score than any other and that it's now the fourth-most popular of all bets placed on the Super Bowl.
The seed of the rumor that games were scripted was planted by Super Bowl XXXVII winner Dwight Smith, who said in an interview in 2022 that the winners of major NFL games are predetermined by the league.
He claimed that "games aren't decided on the field" and that both teams know every play that the other team will run.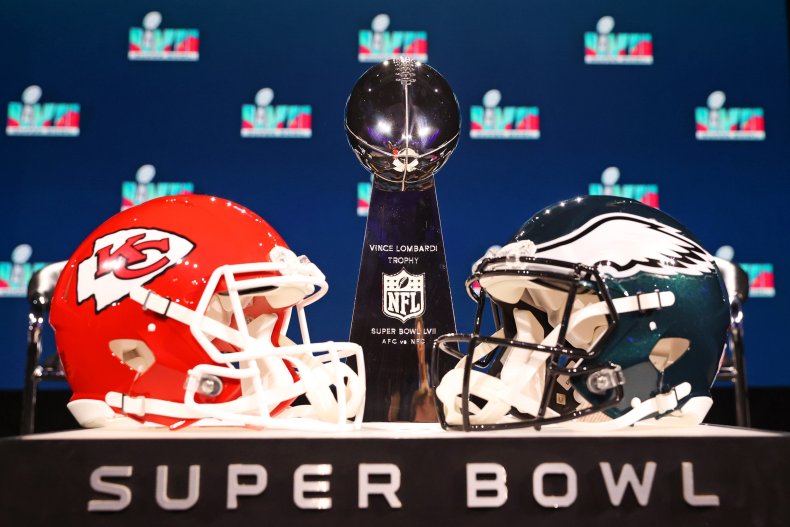 Cincinnati Bengals fans pointed to a number of calls during the AFC Championship game that went in favor of the Chiefs as proof that something was awry in the officiating and prompting calls that it had been rigged so that the two highest seeds in the NFL met in the Super Bowl.
The script theory was given legs again on January 31, when former Houston Texans running back Arian Foster joked that NFL games had a script to follow.
"That's what practice was about, it was about practicing the script," Foster said on his podcast Macrodosing with co-host PFT Commenter.
Foster jokingly added: "We were really dedicated to it."
Do you have a tip on a sports story that Newsweek should be covering? Do you have a question about the NFL? Let us know via entertainment@newsweek.com.