When a golfer becomes people's favorite, the reason behind it is not only their exemplary golfing skills but also their heart. Many golfers are on the list of people's favorites, and now there is one more addition to the list. The number one golfer, Jon Rahm, has won hearts with his sweet gesture. The video is going viral, and it will melt your heart. It proves that the Spaniard is not just an excellent golfer, but a great human as well.
The heart-melting sweet gesture of Jon Rahm
The Bay Hill Golf Course will shine when the pro golfers play to win $20,000,000 from March 2-5. However, Jon Rahm is winning hearts ahead of the Arnold Palmer Invitational. The official Twitter handle of the PGA Tour has posted an adorable video where the Spanish golfer made his little fan the happiest. The kid enjoyed Disneyland and received many autographs, but one from the golfer will probably be his favorite, as stated in the tweet.
ADVERTISEMENT
Article continues below this ad
DIVE DEEPER
The kid in the Donald Duck hat had a plaster around his wrist. Concerned, Rahm noticed and asked, "did you snap it?" The fan replied in agreement. Before signing his plaster, the pro golfer asked for the little fan's preference, "anywhere you want it?" followed by, "you broke your wrist?" The major championship winner set the giggle sprinkler on and said, "I'm just making sure you're not going to sell it." Faint laughter followed his joke, and he signed the little fan's plaster.
However, it was not the first time Rahm proved he has a golden heart. In November 2021, after the conclusion of Open De Espana, Rahm spent a descriptive time with his fans. He stood before the long queue of children, signed their caps, gave autographs, and clicked pictures. He said, "I'm going to sign all the children, no matter how long it takes." His dedication to fans won everyone's hearts.
ADVERTISEMENT
Article continues below this ad
Like father, like son
Where the 2020 Memorial Tournament winner is busy winning over fans, his son is winning his heart. Not once, but many times, Rahm has proved that his family is essential to him. Last year, his son Kepa's video was one of the best gifts he received. After the conclusion of the BMW Championship, Rahm received a video of his then 1-year-old son watching him play on TV. His son said "AITA," which means DAD in his native language. And this melted his heart, as it was the best feeling for Rahm as a father.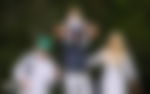 Watch This Story | Brooks Koepka's Wife's Mistake Lands His Team in an Awkward Situation
ADVERTISEMENT
Article continues below this ad
Did you feel touched by Rahm's sweet gesture? What are your expectations from him for the Arnold Palmer Invitational?